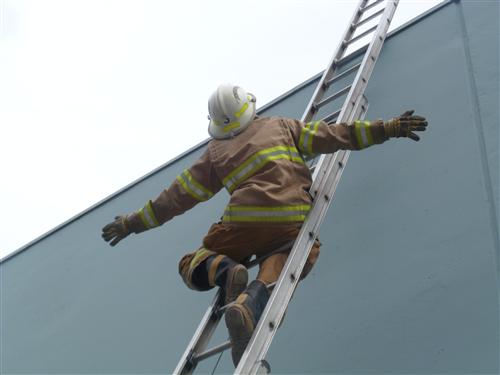 I congratulate you on your decision to participate in the 2019/20 Fire Science program. I have an exciting, interesting, and engaging program planned for you. I know you are up to the task, it requires maturity, dedication, teamwork, physical stamina, and stepping outside of your comfort zone sometimes – but the personal rewards will be life changing.
In the Fire Science program we are fortunate to have a working Fire Engine and Fire Ground equipment. We will be performing much of the same training that actual Fighting personnel would perform. Access to this equipment is based on the Team's demonstrated level of Maturity, Safe Conduct, Knowledge of Operations, and Professionalism.
This year I am very grateful - and we are incredibly fortunate to have the support of our local Fire and Emergency Medical and Emergency Services Community Partners, together we are a team of Professionals with 100 plus years of combined experience and training - we will be your Core Lectures and Instructors. Listed here are just a few of our Professional Community Partners – Bremerton Fire, South Kitsap, Central and North Kitsap, Gig Harbor, North Mason, and Naval Base Kitsap. Our real world experience has prepared us to present to you the information and skills you need to continue in your education to be successful in your life; and should you chose the rewarding field of Emergency Services.
Each year the Fire Science students participate in several Fire Safety/ Fire Science training, leadership, and promotional events; during these events we represent West Sound Tech - and by association the Fire and Emergency Services communities.
Fire and EMS Personnel are Public Servants who are constantly in the public eye; there is a tradition and an expectation of highly Professional Appearance and Conduct. Additionally we will often have opportunities to train with our Fire Service Community Partners – Your Professional Appearance and Conduct will reflect on you; and may ultimately play a part in your selection into the Professional FIRE/ EMS community.
With the above in mind we require that all students have their own "Station" Uniforms. (Shirt and Pants)
Uniform requirements are as follows:
Uniform Shirt and Pants – Please do not purchase Shirt or Pants prior to the start of school – we will make a group purchase once we know everyone's sizes. Information on purchasing Uniform Shirt and Pants will be available the 2nd week after school starts. Total cost for Shirt and Pants will not exceed $40.00. West Sound Tech will accept check, cash or credit/debit card payments.

Black Leather work boots with laces in the front (at least ankle high) that can be shined - and a can (not a bottle or applicator) of Black Shoe Polish.

Black socks

1 inch wide plain Black Belt

Personal Sewing Kit. Thread will be provided.
Once we receive our Uniforms we will start to conduct Uniform and personal hygiene inspections once a week as part of our grading policy. On Inspection days, and Class event days, the Uniform Dress Code will be strictly enforced.
Fire and Emergency Service personnel are required to be Physically Fit; this doesn't just mean running and exercises all of the time - we will play Frisbee, Volley Ball, and do lots of fun things.
By the end of the First Semester you will be expected to pass the minimum Bates Community College Physical Fitness Standard – easily achievable - we start the year easy as a team and work up to success as a team.
For P.E. you will need:
Physical Exercise Clothes, including Athletic Shoes
All curriculum equipment, textbook and supplies needed will be provided by West Sound Tech.
Classroom items supplied by you:
A Pad Lock for your personal locker – Lockers are small - 12" high X 13" wide X 14" deep

Pens and Pencils

2" 3 Ring binder and paper

Box of Nitrile gloves (fit to your hand) NO LATEX gloves

Small Pocket size "Write in the Rain" notebook.
During the year you will have opportunities for numerous Certifications.
Below is a partial list of certifications that will be made available to you:
CPR/AED and First Aid Cost approximately $15.00 for the Books and Card

IS-100.c Introduction to the Incident Command System

IS-320 Wildfire Mitigation Basics for Mitigation Staff

IS-700.b Introduction to the National Incident Management System
For those of you who maintain a B Grade or higher, and pass the Physical Fitness Test, you will be qualified to receive up to15 Credits at the Bates Community College Fire Training Course.