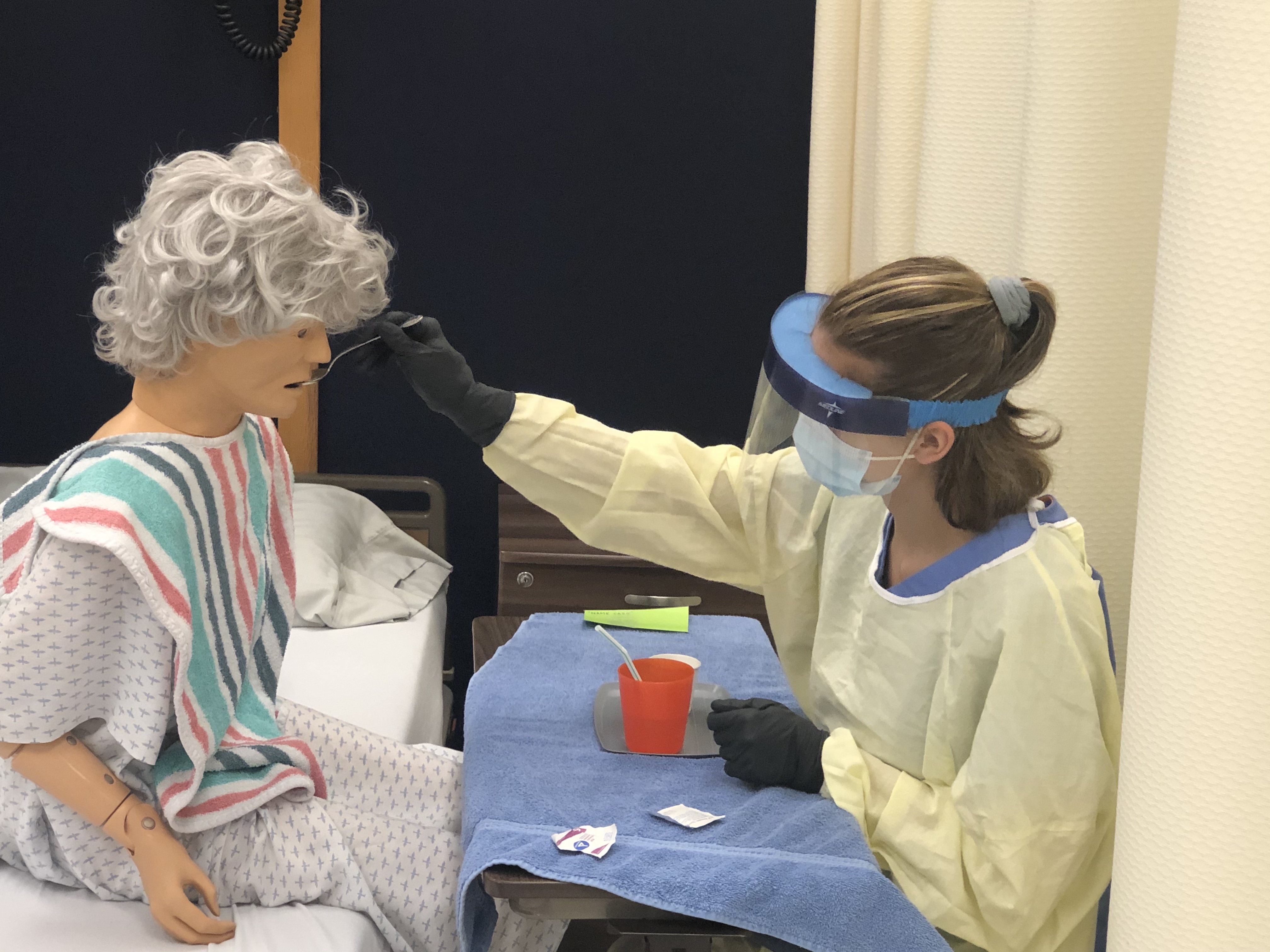 Through hands-on experience, acquire the skills and knowledge needed for a variety of medical occupations.
Learn anatomy, physiology, medical terminology and the signs, symptoms and prevention of disease. Students will have opportunities to research a variety of traditional and nontraditional medical careers. In addition, they will learn the foundations of health care. These include common medical terminology and abbreviations, basics of anatomy/physiology and the basics of nutrition and health. Students will then learn the role of the Nursing Assistant Certified (NAC) as it relates to the fundamental knowledge and skills necessary to pass the state certification exam. The laboratory and clinical experiences will help prepare students to function independently in a skilled nursing facility upon completion of this course.
If the student chooses and qualifies, a portion of the year may be spent in a supervised clinical experience working with patients. This prepares students for entrance into a college level nursing program, as well as for certification as a Washington State Certified Nursing Assistant.
Career Opportunities
Certified Nursing Assistant

Licensed Practical Nurse

Registered Nurse

Medical Office Assistant

Physician

Radiology Tech

Pharmacist

Physical Therapist
Students prepare for entry level medical career as Nursing Assistant Certified in a variety of healthcare settings. Clinical activities are an integral part of this program which is approved by the Washington Nursing Care Quality Assurance Commission. During the clinical phase, students demonstrate nursing competencies under supervision at clinical sites and improve skills by working with a healthcare professional in a student role. Graduates are required to pass the Washington State Certificated Nursing exam to practice as certificated nursing assistants in Washington State. Clinical experience typically occurs in a site close to the WSTSC location in Kitsap County; students are responsible for own transportation to and from clinical sites.
Coursework emphasizes the study of the twelve body systems and their anatomy and physiology, the development of key medical terminology, and the development of the skills necessary to perform the 22 patient care skills required for the NAC certification. The students will also be able to distinguish different medical careers and the educational/licensing requirements for those careers.
A Professional Medical Careers student needs to have a desire to work with people, among other important traits. Patience, empathy, a high level of alertness, energy, and flexibility are imperative when working in the healthcare industry. Good physical health, including physically able to lift at least 30 pounds, move quickly and the stamina to be on your feet for hours at a time are beneficial for your success in this field.
Students will be required to read and comprehend professional medical manuals; perform required math skills including dosage and measurement; and communicate effectively in written and oral presentations.
There is a strong emphasis on employability skills, professionalism, leadership and teamwork. Attendance policies are strictly adhered to and have a direct link to grading. As with all hands-on training, you must be present and engaged in the learning process to be successful.