MY PERSONAL REFLECTION OF WST AND THE AUTOMOTIVE TECHNOLOGY PROGRAM
By Ronald Gunther - Automotive Technology- Sept 2011 - June 2012
The Automotive Technology program at West Sound Technical Skills center in my opinion is an excellent program for students who wish to expand their knowledge in automotive technology. The course covers many areas of modern automobiles including; engine diagnosis and repair, brake systems operation, service, and repair, suspension systems diagnosis and repair, and electrical systems diagnosis and repair. The course also extensively prepares students to enter the automotive industry through professional attitude, industry workplace expectations, and meeting industry standards in repair and workmanship.
In the Automotive Technology program I have had the opportunity to work on improving my skills as an automotive technician in a live shop atmosphere whether working on "shop" cars, customer vehicles, or even my own vehicles. The program allows you to work through the repairs and jobs so that you get the necessary experience and skills that will prepare you to go into the automotive field if you so choose to.
The Automotive Technology program has prepared me to move onto advanced training at Clover Park Technical College so that I can pursue an Automotive Technician Degree. During my year at the Automotive Technology program I have been able to earn multiple awards including; a Valvoline Motor Oil Basics Training Certificate, Multiple "Employee of the Term" awards, and many "Certificates of Attendance". To add to that I have an President's Education Award signed by the president of the United States of America, a citizenship award for superior leadership qualities, and a Student of the Year award in my Automotive Technology course. Also to add to that I have scholarships from the "Gig Harbor Cruisers" car club, Olympic Vintage Auto Club, the Kitsap Klassics car club, the Gregory B. Sammeli Memorial Scholarship, Dolaine Nelson Helping Hand fund, and the West Sound Technical Skills Center Foundation Scholarship.
The Automotive Technology Program at West Sound Technical Skills Center is a truly phenomenal program that is unmatched by any other local vocational schools. The staff at West Sound Tech are also phenomenal and will help students to keep a productive learning environment to grow as a student and potential future employee in tomorrow's workforce. The potential for growth at West Sound Technical Skills Center is huge if you put in the effort and commit yourself while attending at West Sound Tech.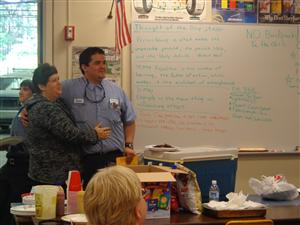 A LETTER HOME BY JOHN CAMPBELL - U.S. ARMY
Mr. Franklin:
I'm not sure if you remember all your students but I sure do remember you! My name is John Campbell and I was in your class about 8 years ago and did the summer school program with you. I've been in the United States Army now for almost 6 years and am currently in my second tour of Afghanistan. My job in the army is an unmanned aircraft mechanic where I work on all systems of the aircraft. I love this job and will probably retire from it. I always remember the awesome opportunities I was given to be taught in your class and will never forget the fun times, I can remember your class like it was yesterday! (In the two pictures I'm the one on the left and the one changing safety wire on the propeller).